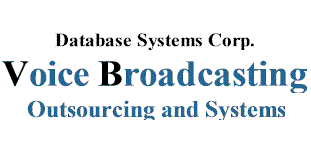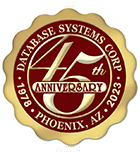 Phone Broadcasting Service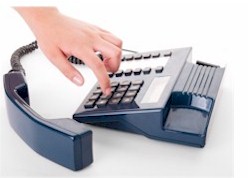 Database Systems Corp. (DSC) is a leading provider of auto dialer phone systems and computer telephony integration (CTI) solutions that send voice messages to thousands of residents at once.

DSC voice broadcasting service and systems can deliver bulk phone announcements to your clients, employees and community. Phone broadcast messages can be automatically delivered from your computer systems and websites using our XML Push technology.

Our voice broadcasting system can place one call or millions of calls using a network of auto dialing systems. Pre-recorded phone messages can be played to either individuals and answering machines or just to individuals informing them of emergency alerts, community events, upcoming appointments, or simple reminders.

Different messages can be played to an answering machine versus an individual. If your calling campaign requires a response from the called individual, an IVR script can be developed for touchphone response. Outbound calls can be routed to operators that are standing by or can be transferred to outside third parties.
Register Online and Save!
If you wish to use our voice broadcasting phone services, DSC is pleased to offer significant discounts when you use our Online Registration Form. This is a quick and easy way to create an online account and manage your voice broadcasting campaigns.




Start Calling In Just Minutes!. Using our new online signup lets you get started immediately with your calling campaign. Simply create an account and agree to our standard terms and conditions. Then download your list of phone numbers and record a message. We accept major credit cards and for as little as $25, you can begin calling. Its that simple!

If you have any questions, please call us at 602-265-5968.
---
Client Profile - MetLife

"Over the years, MetLife has made a difference by supporting urban renewal projects and community financing. The company's social commitment and its commitment to the security of its policyholders have proven to be good business." - www.metlife.com

MetLife selected Database Systems Corp. and our phone broadcasting services to provide phone notification services to its over 100 thousand brokers. This immediate call center service is provided when MetLife needs to contact this extensive broker community with announcements and special events.
---
Types of Phone Broadcasting
Simple Phone Broadcasting Service - This is a basic message delivery where the phone system dials from a list and plays one standard message either to an individual, or to an individual and an answering machine. No person or agent is required to talk with the contacted party who in turn simply listens to the message. This technique could be useful when you wish to simply provide information or announce an event, provide a reminder, or request an action from the contacted individual.



Custom Phone Broadcast Messaging Service - Similar to the Simple Phone Broadcasting but the auto dialer plays a customized message based upon the number dialed. Unique items of information can be inserted into a standard message. Likewise the entire message could be unique for each number or based upon demographic items in the call list database. The message itself could be stored in the database. This technique could be useful when you wish to perform targeted marketing or if you want to provide custom reminders with names, addresses, amounts, dates or times included in the message.



Phone Broadcasting Service and Touchphone Response - This technique expands the prior call technique by playing a message that gives the contacted individual options from which to select. Using touchphone responses such as "Press 1 for...", the choices could include obtaining additional information, being removed from the call list, leaving a voice message, or terminating the call. A different message can be left on an answering machine or the answering machine could be ignored completely. Although more complex than the prior call types, this form of call broadcast dialing does not require that an agent be available to handle this call.


Phone Broadcasting Service and Call Transfer - This method is similar to the prior call technique but with the option to transfer the call to a third party. Again, using touchphone responses the contacted individual can request that the call be transferred to an outside agent. The phone system dials another number and when contact is made with the third party or different phone system, the call is transferred. This is effective when the transfer party or organization is remote or not directly connected with your phone system and center.



"Smart" Phone Broadcasting Service - This type of calling campaign blends Phone Broadcasting with Predictive Dialing and can produce very productive results. Call broadcast messages are played to the called individual, and if the person expresses an interest in your product or service, the call can be routed immediately to a group of agents who are actively standing by to accept calls. This type of call works well when a call center is behind the message broadcast campaign. You have effectively transformed an outbound call center into a more productive inbound center.



Call Us Today
Contact DSC for a FREE analysis and quote and to learn more about our voice broadcast outsourcing services.



Other DSC Applications
Medication Reminders
Call Reassurance
Latchkey Kids
Reminder Call Service
Emergency Broadcasting
Church Calls
School Calls